As it has done each year since 1969, the Ladies Leukemia League, Inc. will once again host its annual FÊTE DE NÖEL luncheon and fashion show on Friday, December 1, 2017.

Through the efforts and dedication of our 225 volunteers, your support of this major event has helped us raise over $3.6 million dollars for leukemia research. We hope that you will continue your support.
NOTE: The order form is in PDF format, requiring the use of Acrobat Reader. If you do not have this software installed on your computer, click the icon below to download a free copy.

Several years ago, we created the "Light the Tree of Hope" campaign, to which corporate sponsors and individual donors have so generously responded in the past. We again invite everyone to help us light the tree - always such a dramatic part of our holiday fund-raising event. Contribution levels are as follows: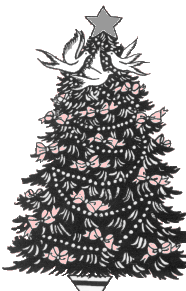 Silver Star - $10,000
Golden Rings - $5000
Doves - $3000
String of Lights - $1000
The Ladies Leukemia League, Inc. invites you to participate in our "Light the Tree of Hope" campaign. A donation in the $1000 to $3000 level will entitle you to preferred seating for two, special recognition at the luncheon, and patron listing in the invitation and program. A donation of $5000 and over will entitle you to all of the above plus a patron table for 10.
As a donor, you can be assured that 100% of your contribution is used to fund research grant awards. You will be advised when the grant recipients have been selected. Please contact Allyson Marrero at the post office box below if you are able to help.
---
We are a 501©3 organization. Our IRS tax number is 72-0997410. We welcome the opportunity to meet and discuss our objectives with you. If you have any questions, please feel free to write or email us. See our contact information below.
All checks should be made payable to Ladies Leukemia League, Inc. and mailed to the postal address below.
As always, thank you so much for your generous support!